1. ORDER PLACEMENT
Unless specified otherwise, the Hegenberger Retractor can be ordered by email: [email protected]. Orders for delivery to Denmark can be placed with Hegenberger Medical. For delivery to Sweden, orders can be placed with Wing Plast at www.wingplast.se and for delivery to Norway, orders can be placed with Endotech at www.endotech.no. For delivery to other EU countries, please contact [email protected].
2. PAYMENT
You will receive an invoice on order placement. Payment can be made by standard bank transfer to bank reg. No. 3409, Account 3409850553.
Public institutions can pay for ordered goods via EAN invoice.
For customers with an account with us, the payment period is 30 days from the date of delivery. After this deadline, a reminder fee of DKK 100.00 plus 2% of the invoice amount, excluding VAT, can be charged per month overdue.
3. PRICES
Unless indicated otherwise, all prices are given in DKK excluding 25% VAT.
These conditions are subject to reservations for price increases, force majeure, changes in taxes and duties, sold out goods and typographical errors.
The stated prices are applicable only within the borders of Denmark, not including the Faroe Islands or Greenland.
The prices can vary depending on the country in which you make your purchase. Distributors assigned to specific countries set the prices for their respective countries.
4. DELIVERY AND SHIPPING COSTS
All orders will be expedited as quickly as possible and will be sent via Post Danmark. In general, you can expect goods that are in stock no arrive no later than 8 days after you place your order. You can always cancel orders that have not yet been invoiced. Contact [email protected].
Delivery costs include shipping + an expediting fee per delivery, regardless of how many goods you purchase. This amount will be indicated on the invoice.
5. DEFECTS
If the delivered goods do not correspond to the order or if you detect defects/deficiencies in the delivered goods, please contact our customer service at [email protected] within 14 days of detecting the defect or deficiency. Further details regarding delivery of the correct goods, any repayment and any remuneration of your shipping costs will be agreed upon with customer service.
6. RETURNS
You have the right for 14 days to fully cancel and return the goods you purchase from Hegenberger Medical. The right to cancellation starts from the time at which the goods are delivered. The goods must be delivered to Post Danmark or another shipper no later than 14 days after they are received.
You are responsible for expenses associated with shipping of the returned goods, and you are also responsible for the goods during shipping. Remember to include a copy of the invoice approved by Hegenberger Medical for return.
When we receive the returned goods, we will apply a credit to your invoice and will transfer the return amount due to your account.
The goods must be packaged appropriately and returned to the following address:
Wing Plast, AB, Nitgatan 11, SE-333 33 Smålandstenar, Sweden.
7. CONTRACT LAW
Agreements undertaken with Hegenberger Medical shall be in Danish or English.
When you do business on HegenbergerMedical.com, the general purchasing and contract statutes in accordance with Danish law shall apply, including the regulations regarding the sale of consumer goods. As a consumer, you are therefore protected by the applicable statutes, i.e. primarily sales law and consumer contract law.
8. LIMITATION OF LIABILITY AND RESERVATIONS
In order to do business on HegenbergerMedical.com, you must be at least 18 and must agree with these terms and conditions. Hegenberger Medical is not responsible for any delays in delivery by Post Danmark. In addition, we cannot provide any warranty that HegenbergerMedical.com is fully functional and error-free at all times, and we cannot be held responsible for any errors associated with the use of HegenbergerMedical.com – such as Internet connection problems or the use of incompatible computers or programs.
9. DISPUTES
Any disputes associated with doing business on HegenbergerMedical.com or regarding these conditions shall be settled in accordance with Danish law in the ordinary courts.
10. HANDLING OF CUSTOMER INFORMATION
All customer information is treated as fully confidential and is used exclusively for the purpose of order administration, accounting and statistics. The legal requirements for commercial accounts stipulate that we are obligated to retain customer information for a minimum of five years. We do not retain credit card data.
Customer information is stored by HegenbergerMedical in a database on a secure server. We do not transmit your customer data to third parties.
Malene Hegenberger is responsible for data security at HegenbergerMedical.
GDPR
Procedure for handling of personal data, Hegenberger Medical, CVR 38984853
NAME AND CONTACT INFORMATION FOR PERSONS RESPONSIBLE FOR DATA
Hegenberger Medical
Innovation Centre
99 Park Drive
Milton Park
OX14 4RY
United Kingdom
[email protected]
ABOUT THIS PROCEDURE
This procedure has been elaborated based on Article 30 of the GDPR and the guidelines of the Danish Data Protection Agency. More detailed descriptions of specific workflows and procedures are given in separate documents.
PURPOSE OF HANDLING PERSONAL DATA
Sale to institutions
When an institution purchases retractors from us, we handle the information received for the purpose of fulfilling the sales agreement.
In contrast to sales to private recipients, we obtain the information from third parties, as the purchaser is providing information on other contact persons at institutions. This is also necessary to fulfil the sales agreement.
Customer service, support and responding to inquiries
When we are contacted with questions regarding products they have purchased from us, the purpose of handling their data is fulfilment of the sales agreement. For other requests, the data are handled for the purpose of responding to the questions with which the person contacts us. If the person sends us sensitive data, this will be deleted as quickly as possible.
Marketing
In marketing via newsletters, social media or direct inquiries, the personal data are handled for the purpose of selling the company's product. We follow good marketing practice here.
Personnel administration
Personal data handled in connection with personnel administration has the purpose of complying with the applicable laws and the employment agreement.
Accounting, records and payment of invoices
In connection with both sales and purchasing, personal data are handled for the purpose of fulfilling the purchase agreement as well as the applicable laws.
CATEGORIES OF RECORDED ENTITIES AND CATEGORIES OF PERSONAL DATA
In Hegenberger Medical, we handle the following categories of personal data:
· Name
· Contact information (postal address, phone number, email address)
· Emails
· Photos
Here is how the different categories of personal data are handled for different categories of recorded entities:
Personnel
The personnel category covers permanent employees, temporary employees (including employees with wage subsidies), contract workers and trainees.
In this category, both general personal data such as name, address, contact information and photos are handled, as well as personal identification numbers and, in some cases, sensitive personal information, such as medical data in connection with absences due to illness.
Business partners
Business partners are contacts from companies which Hegenberger Medical sells to, makes purchases from or with which it has other forms of cooperation. For example, this cooperation can include sponsorships, joint development projects, investment, institutions etc.
In this category, only general personal data are handled, typically name, contact information, place of employment and job title.
Professional contacts
Professional contacts are persons with expertise within Hegenberger Medical's technical field and who contribute with feedback on the retractor, for example. Some professional contacts may also appear on images or may assist at trade fairs, but will be treated as contract workers in this context.
In this category, only general personal data are handled, typically name, contact information, place of employment and job title, as well as email communications with the person.
Contacts at institutional customers
This category includes those persons we are in contact with at hospitals, midwifery schools and other institutions who purchase specula. They will often be department heads at hospitals.
In this category, only general personal data are handled in the form of name, contact information, place of employment and job title. Email correspondence will be conducted with these persons.
Contacts at potential institutional customers
Within the context of good marketing practice, we will contact relevant persons employed at hospitals, midwifery schools and other institutions who could potentially be interested in our retractor.
In this category, only general personal data are handled in the form of name, contact information, place of employment and job title. Email correspondence will be conducted with these persons.
Various inquiries
We receive various inquiries via email, contact forms and social media.
The information handled is that given to us by the person on placing the inquiry. In the event that we receive sensitive personal data (typically medical data) in an inquiry, we will ensure that these are deleted as soon as the inquiry has been answered. Persons making inquiries will be informed of this.
TRANSMITTAL OF PERSONAL DATA
We transmit personal data to a number of external services, suppliers, partners and public entities. In most cases, this transmittal is based on a data processing agreement. In individual cases, the external contacts are partners with their own independent data security obligations.
Suppliers and services with data processing agreements:
· Mailchimp (newsletter service)
· e-conomic (accounting system)
· Google docs (file sharing service)
· Dropbox (file sharing service)
· Pakkelabels.dk (labeling service)
· Adobe
Suppliers, partners and entities with independent data security obligations
· Municipal administrative offices (jobcenter etc.)
· GynZone.dk
· Vulva enterprise
· Hospitals and educational institutions
· Wing Plast, Sweden (manufacturer and distributor)
· Other retractor distributors
Transmittal to third countries
In cases where a supplier uses a server located in a third country, the data processing agreement will ensure security in connection with these servers.
DEADLINES FOR DELETION
We retain and delete personal data based on the following principles:
Sensitive personal data and ID numbersare retained only to the extent required by law, necessary for a concluded contract or by agreement.
General personal data are retained for as long as necessary for current purposes and are subsequently retained or deleted based on the following principles:
· If the data has no long-term significance, it is deleted after handling.
· If the data is associated with a contractual relationship, it is retained for as long as the contract is in force and for 5 years after that.
· Information associated with our sale of the retractor is retained for as long as the retractor customer wishes. We do not store unnecessary personal data here.
· Other personal data is deleted after 1-2 years.
SECURITY PROCEDURES
A general guideline has been prepared for use by Hegenberger Medical's personnel for handling personal data, including a series of more detailed procedures for specific work steps for use by persons working in a specific area.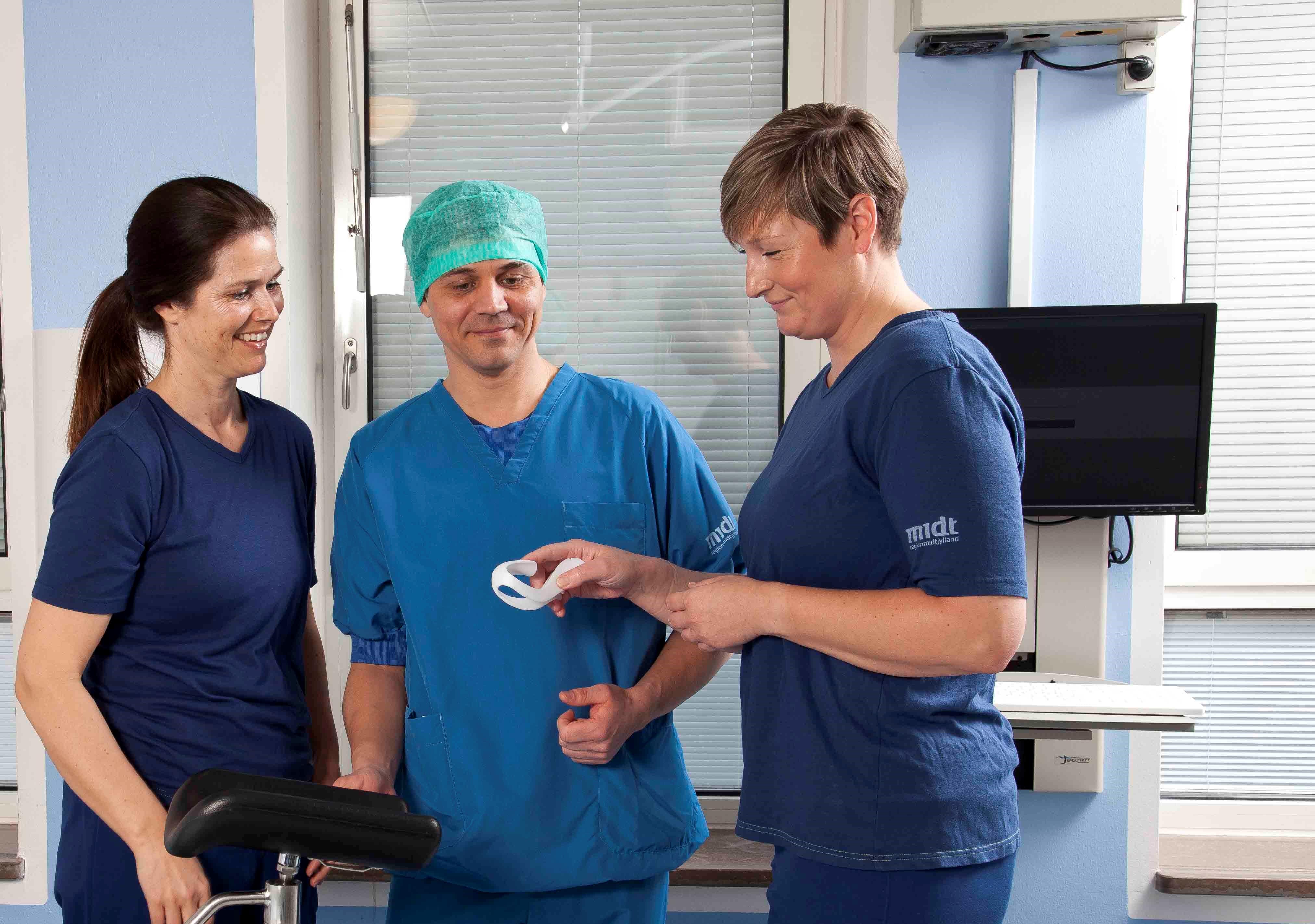 Join our mailing list